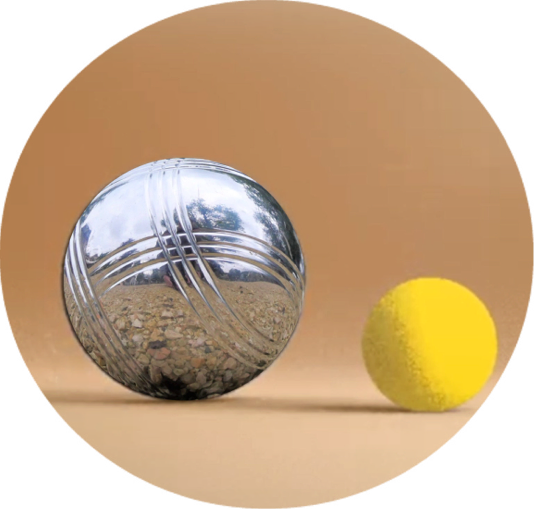 Running of the WORLD CHAMPIONSHIPS (Men and Women)
- Preliminatoiry phase - system in "swiss system" - 5 rounds (Women 4 rounds), time limit 45 minutes + 2 games(criteria for classification after 5 rounds swiss system: Nb. wins, Bucholz, Bucholz fine, points difference, positives points) - MENS - TOP 8 players pass directly in the 1/8 finals of the World Championship. The following 16 players (from the 9th to the 24th place) will play barrage (1 round in direct elimination). Winners go up to the 1/8 finals of the World Championship - WOMEN – TOP 16 play 1/8 finale of Worldchampionship - All games we will play on single elimination without time limit.
A fter the success of the "1st International Tête à Tête, Henri BERNARD Trophy" named after our late President, International Federation of Pétanque and Provençal Game decided to create the World Championships Head to Head, male and female. For the first time in the history of Bocce, players and players from five continents will, for 3 days, arguing in Boulodromes Municipal Ge GALLARATTO and Henri Bernard, the supreme title, each in its category, from Champion World Face to Face.
I have the honor and privilege of chairing the Organizing Committee of the 1st World Championships Head to Head, surrounded by a team of loyal, Presidents of Clubs Nice for most. We all work for this festival of bowls to live up to our requirements, but especially for you, Federations, be received in the best conditions of accommodation, and that a varied diet and to everyone's liking, your pace meal. President Claude AZEMA was increased in April, the head of the World Confederation of Boules Sports (CMSB), the only body recognized by the International Olympic Committee. It is a great source of hope for the balls as a whole. His knowledge of the files, permanent involvement with many international federations and sporting bodies and its commitment to the National Olympic and Sports Committee French make him and his team the best chance to one day access the Grail that is the Olympics.
The city of Nice deserves, more than any other, this new first competition because President Henri BERNARD child is NICE and what better tribute than to create a new competition at home which is more in Bowling bearing his name, but also for the involvement of the Municipality and its Deputy Mayor Christian Estrosi in supporting all sports and especially Boules Sports. Thus, at his initiative, in 2015, will take place Européan Masters Games, which as its name does not indicate, are somehow the Olympics the "Veteran", which will bring together 27 disciplines including bowls Every month, beginning in August 2014 and until February 2015, the affiliated federations FIPJP receive their newsletter by sharing the progress of preparations for this competition. The first newsletter will be devoted to registration and booking arrangements (hotel and meals) via the website created for this purpose.
Good luck for all your future maturities and hope to see you in January 2015 NICE.
Stephane Pintus - Organisation Committee