Death of President Dolys Randriamarohaja
Excellent player since he represented his country several times in world championships, in particular in 2010 in Turkey where his team had only failed in the final after a game where only luck had tipped the scales twice in favor of France. He was therefore not really predisposed to take the head of a federation in a country as important as Madagascar.
However, when the FIPJP rightly considered it was not possible to count among its members a federation whose leaders had sporting and extra-sporting practices which were at best dubious, he was one of the first to be volunteer to ensure that the Pétanque of his country is no longer a disgrace on the international level and takes back the place it deserves.
In spite of a particularly hostile environment because the former leaders, strongly helped by sometimes high-placed complicity, including in the governmental authorities as the continuation was going to prove it, "he took care of all his might to enhance the value and the dignity of this sport "in Madagascar - as it is written on the FSBM website - by taking the head of the new Malagasy Federation of the Sports of Bowls and by presenting all the necessary guarantees so that the FIPJP grants him its recognition, the only valid at the international level, and gives him delegation to manage our sport in his country.
Both literally and figuratively he paid with his person, taking charge of sending a team to the 2019 African Championships in Togo where it obtained the qualification for the 2020 World Championships in Lausanne, then the trip Women's and Youth teams in Cambodia with a brilliant bronze medal in precision shooting; all without any help from the sports ministry, which is always keen to take into consideration only the excluded federation, before granting the FSBM only one year of recognition.
However, the supporters of an organisation bordering on mafiosism and their support continued to increase the pressures of all kinds onto himself and onto those who showed him their support a little too much, both personal and professional to the point of weighing down heavy threats to the many jobs that his company, whose very existence was threatened, was generating.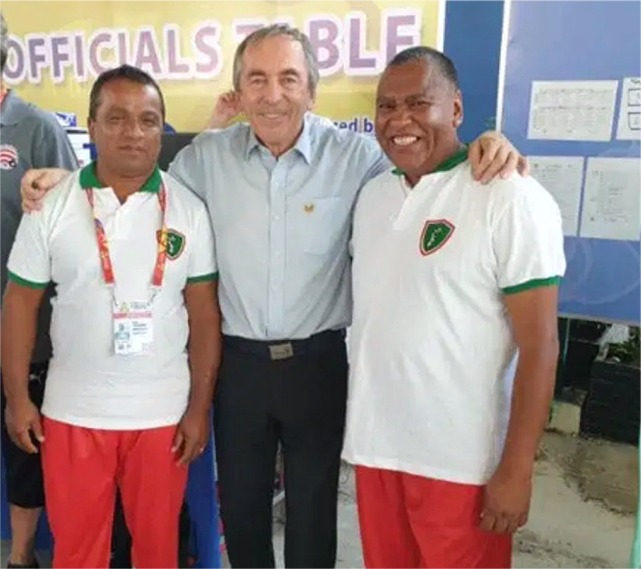 It therefore took an immense courage to hold out in these conditions and continue to structure the FSBM throughout the territory by fighting against the creation of fictitious clubs and the tolerated organization of wild competitions when, officially, the competitions were prohibited.
Once again the conclusion goes to his FSBM friends: "The champion died before he had completed his mission, but he left forever to leave us the legacy of the FSBM".
In any case, Malagasy Pétanque players, women and men, can count on the FIPJP to continue to support them in this path of legality, probity and to continue to pillory those who would like to return to old practices. We all owe this to Dolys.